TTI Assessments & Related Tools


Motivators, Attitudes, Values

– 12 Driving Forces ™
– Workplace Motivators ® – old version
– Personal Motivation and Engagement – formerly PIAV




Hidden Motivators
Values are the drivers behind our behavior –– what motivates our actions. These abstract concepts are principles or standards by which individuals act. These beliefs affect the behavior of an individual or an organization.


12 Driving Forces — Motivators - deeper & fuller spectrum
NOTE: This is the new version of Workplace Motivators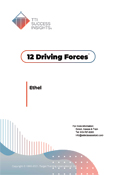 This report is based on 6 basic interests, or motivators in life: Theoretical, Utilitarian, Aesthetic, Social, Individualistic and Traditional. Learn how to explain, clarify and amplify some of the driving forces in life.

The 12 core driving forces include:
– Intellectual
– Instinctive
– Resourceful
– Selfless
– Harmonious
– Objective


– Altruistic
– Intentional
– Commanding
– Collaborative
– Structured
– Receptive


The top driving forces create a cluster of drivers that move a person to action. When examining the next tier of 4 driving forces,the individual will recognize they may have strong pull, but only in certain situations. Finally, when reviewing the bottom 4 driving forces, the varying levels of indifference or total avoidance will will identified.
The 12 Driving Forces report includes:
— Primary Driving Forces
— Situational Driving Forces
— Indifferent Driving Forces
— Areas for Awareness
— and more
View more 12 Driving Forces report information
View 12 Driving Forces report sample
View 12 Driving Forces brochure





Team Motivational Group Report – Motivators / attitudes

The Team Motivators report combines the results of up to 25 people into one, easy-to-use team group report. Individual assessments must be taken first. This report considers each team member's individual motivators to determine the team's dynamics.
View more Team Motivational / Team Building information
Team Motivational report sample
Team Motivational brochure



Older version – Personal Motivation and Engagement -- formerly named PIAV



The Success Insights Personal Motivation and Engagement assessment measures responses in each of the 6 motivators / attitudes. The report shows each of the 6 areas compared to a National Average.

The person is provided with information on the WHY of his/her actions which, with application, can tremendously impact your valuing of life.

This Personal Motivation and Engagement assessment will:
– Understand the causes of conflict
– Develop an increased appreciation for the uniqueness of others
– Appreciate the viewpoint of others who see life differently
– Increase "valuing" of life
– Increase satisfaction and fulfillment in life

This Legacy version is still available. Please contact us for more information and pricing.



ALSO AVAILABLE:

Behaviors / DISC + Motivators - Integrated + Avoidance pages - 2 reports in 1

Talent Insights Coaching ™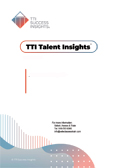 The Talent Insights Coaching report was designed to increase the understanding of an individual's talents. The report provides insight to two distinct areas – behaviors and motivators. Understanding strengths and weaknesses in both of these areas will lead to personal and professional development and a higher level of satisfaction. It also integrates the two in a third section. Avoidance pages are now added to the behaviors and the motivators sections.

Behaviors Avoidance:
The absence of a behavioral factor may provide insight into areas of a current environment that can cause added stress. Based on research, situations are identified that should be avoided or minimized in a person's day-to-day environment. By understanding the contribution of a low behavioral style, we are able to better articulate a person's talents.
Motivators Avoidance:
This page will highlight areas in which a person lacks appreciation for an opposing motivator. The information will teach the individual how to manage his/her way through discussions focusing on his/her #6 motivator.
View more Talent Insights information
Talent Insights Coaching - General report sample
Talent Insights Coaching - Executive report sample
Talent Insights Coaching - Sales report sample


Please contact us for more information and pricing.


GROUP WHEELS – for Online Assessments
Behaviors / DISC Group Wheel information
Motivators / 12 Driving Forces Group Wheel & Bar information


COURSEWARE – facilitator material, participant workbooks, games
Role Exercise Games
Behaviors / DISC options
12 Driving Forces / Motivators / Attitudes options
Combined Behaviors / DISC + Motivators
Sales / Selling related
Emotional Quotient - Emotional Intelligence
Leadership Development Program

Additional Information
DISC - Verbal Barriers
DISC - 10 mistakes


Technical Reports
TTI DISC / Behaviors Technical report
TTI Motivators Technical report
TTI DNA Competencies Technical report
TTI Combined Technical reports
Emotional Quotient Technical report


Return to TTI assessments & training tools main page.