** Now all three: SELECT, SalesMax, & ASSESS – on one assessment platform – OUTMATCH **


OUTMATCH Improves Hiring and Development with Predictive Technology

— Discover great talent – inside and outside your organization.
— See how talent assessments help you hire the right people, drive career growth,
and develop future leaders.
— Predict success of candidates, new hires, and future leaders
— Solve a specific challenge in hiring or development
— Integrate seamlessly with existing HR systems

Use OutMatch Assessment to measure the must-have soft skills your candidates and employees need to succeed.

Assessments are a powerful plug-in to your existing talent selection and development processes.
— Provide instant and personalized insight on every candidate
— Continue delivering value long after a hiring decision has
been made.



Make life easier for hiring teams by arming them with the data they need to make great decisions quickly and to select the very best candidate for every job.
OutMatch furnishes:
— job match scores
— side-by-side comparisons
— personalized interview guides

Hiring Manager Experience
— System includes ALL roles:
Hourly / frontline, Sales, Professionals, Management, Executive
— Simple, easy to navigate dashboard
— Choose the Job Profile / assessment to use for each position
— Candidates can be sorted and stack-ranked to compare them - COMPARE report
— Make hiring decisions simpler
— HRIS / ATS Integration option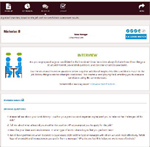 Easy to Understand Assessment Reports
— Overall score
— Assessment traits / competencies overview
— Detailed insights
— Follow up interview questions
Specific questions focused on candidate's "weaknesses"
— Coaching suggestions / Onboarding
Tailored to each candidate, based on their assessment results

More than a Pre-Hire Assessment
— Short list - Move quickly on top-scoring candidates
— Interview Questions - Drive effective, objective interviews
— Reports enable more informed and efficient decisions by providing
interview questions specific to candidate's "weaknesses."
— Onboard & Develop
Provides on-boarding and development tips based
on the individual's responses on the assessment.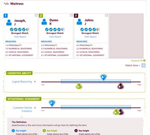 Personality Module
— 20 - 30 minutes for Professional, Management, Executive roles *
— 20 - 30 minutes for Sales roles *
— 12 -15 minutes for Hourly / Frontline roles *

* Cognitive Abilities Tests - included in report cost
— 15 - 25 minutes additional - per ability
For more information: Optional Abilities Testing


All OutMatch reports are written in a concise, straightforward manner.

OutMatch Job Function Areas: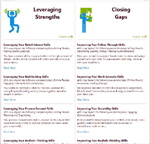 Administration / Management / Executive
Finance
General Operations / delivery
HR
IT / Technology
Manufacturing / Production
Research
Sales
Service
Specialists
Technicians / Technologiests
And more...

OutMatch Business / Industry sectors: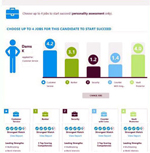 Construction
Industrial - Production, Manufacturing
Healthcare and Social Services
Agriculture
Hospitality - Hotel, Restaurant, Services
Transportation
Government
Energy - Power, Electrical, Nuclear,
Solar, Wind, etc.
Technology - Information Systems, IT,
Computer, Network, etc.
Professional Services
Real Estate
Retail
Casino / Gaming
Sales and Advertising
Scientific / Research
Education
Financial Services / Banking / Insurance
Service
Telecommunications
Arts, Entertainment, Media, Recreation ...




Available Job Roles Listings - Professional Roles:
| A | B | C | D | E | F | G | H | I | J | K | L | M | N | O | P | R | S | T | U | V | W | Z | ALL |

Available Job Roles Listings - Management -and- Executive Roles:
| A | C | D | E | F | G | H | I | L | M | N | O | P | Q | R | S | T | V | ALL |


View ALL LEVELS - Full Listing with descriptions (.pdf)


View OutMatch Assessment Platform brochure
View Optional Abilities Testing



More OutMatch for Managers, Professionals, Executives:
Report options
Selection assessment
Development report
Abilities Testing - Optional
Compare report
Succeed report
Analytic reports
Language options
OutMatch ATS Integration & Partners
OutMatch Purchase Options
Representative Clients


Contact us OutMatch information, pricing, report samples

OutMatch - Hourly, Frontline, Temporary, Seasonal hiring assessments
OutMatch - Sales Professionals
OutMatch - Managers, Professionals, Executives


Return to OutMatch Assessment Platform main page for ALL Job Levels.