TTI Assessments & Related Tools
12 Driving Forces ™ Reference Guide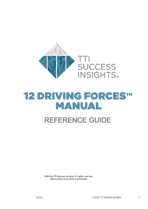 This 103-page 12 Driving Forces Reference Guide is a complete reference guide pertaining to the 12 driving forces language. This e-book contains useful information on motivatorial styles.

12 Driving Forces (Motivators) are personal drivers or the "why" of what we do. TTI SI Motivators helps illuminate and amplify a person's motivating factors.

Motivators can be referred to as the aspects of life that an individual is passionate about, things that he/she perceives as important, or the thoughts that provide him/her with purpose and direction in life.

Some people live their entire lives and are never asked to identify what truly drives them. You could work with a person for years and not be able to identify their true motivators.

Why? Because our motivators are tucked away in a part of our brain, we have difficulty accessing.

TABLE OF CONTENTS – 111 pages –

About TTI Success Insights

Chapter 1: Introduction to Motivators
– History of Motivators

Chapter 2: 12 Driving Forces
– The 12 Driving Forces
– Theoretical: Instinctive and Intellectual
– Utilitarian: Selfless and Resourceful
– Aesthetic: Objective and Harmonious
– Social: Intentional and Altruistic
– Individualistic: Collaborative and Commanding
– Traditional: Receptive and Structured
– Excerpts from Spranger's Types of Men

Chapter 3: Exploring Your Driving Forces
– Driving Forces Cluster Examples
– Areas for Awareness
– Driving Forces Graph Reading


Please contact us for pricing information.




ALSO AVAILABLE:

View Universal DISC Reference Manual – DISC / Behaviors information.

View Emotional Intelligence (EQ) Manual – Emotional Quotient information.

Return to Reference Manual and Guides - Introduction page


Online Assessments – 12 Driving Forces / Motivators, Behaviors / DISC, EQ, and TQ
View information about all of the online assessments / reports


COURSEWARE– facilitator material, participant workbooks, games
Role Exercise Games
12 Driving Forcess / 12 driving forces options
Motivators / Attitudes / PIAV options
Combined 12 Driving Forcess / 12 driving forces + Motivators
Sales / Selling related
Emotional Quotient - Emotional Intelligence
Leadership Development Program


Please contact us for more information and pricing.


GROUP WHEELS – for Online Assessments
Behaviors / DISC Group Wheel information
Motivators / 12 Driving Forces Group Wheel & Bar information


Technical Reports
TTI DISC / Behaviors Technical report
TTI Motivators Technical report
TTI DNA Competencies Technical report
TTI Combined Technical reports
Emotional Quotient Technical report


Return to TTI assessments & training tools main page.