TTI Assessments & Related Tools
TTI Styles Revealed ™ Role Exercise Game
How to Use –– TTI Styles Revealed DISC Game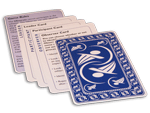 This game is a perfect compliment to any Communication training or seminar, such as Dynamic Communication ™, or any program where DISC is introduced or explained in detail.

It is effective when the audience is not yet aware of their own behavioral styles, as well as when they are just beginning to understand DISC. Either way, the game should help you take the group to the next level and appreciate DISC in the work place.

The Process

Each member of the group will be given a card assigning one of three roles:
– Leader - to lead the group to resolving the issue or problem
– Participant - to be an active part of the solution
– Observer - cannot participate in solution; they are only to observe
the process and the avrious roles people play to arrive at the solution


Each card will identify the rules for the individual to follow.
No one is allowed to identify their role to others, except the Observer(s) may identify their role, if they chose to do so.

As a team, the group will be assigned the task of solving the issue outlined on the Situation Card. Since most, or all, of the roles are unknown, natural behavioral styles will be revealed as the discussion evolves toward finding the best solution.

The ideal group size is 6 to 10 people, but depending on the specific situation, other group sizes can work.

Strategically give every person in each group a role card with specific rules (Leader, Participant or Observer). Each group must have at least one observer and up to two leaders.

The key to the game's success is the facilitator's prior knowledge of each player's behavioral style through their individual DISC reports.

TTI Styles Revealed is designed to fit a broad range of DISC training situations.The game should be utilized as it best fits the training facilitation program and not limited to the directions provided in the game's package.


Return to TTI Styles Revealed Game - introduction page
Return to Role Exercise Games main page.

Please contact us for pricing information.




OTHER ROLE EXERCISE GAMES

TTI Motivators Revealed™ - Values game
A fast and fun way to learn more about values and makes a great addition to any training or seminar when you want to demonstrate the importance of understanding others motivators.

Selling With Style™ - Sales Role Exercise Kit
This training and seminar resource offers three exercises that show how behaviors impact any sales situation.


Please contact us for more information and pricing.


ASSESSMENTS
View information about all of the Online Assessments / Reports


COURSEWARE – facilitator material, participant workbooks, games
Role Exercise Games
Behaviors / DISC options
Motivators / Attitudes / PIAV options
Combined Behaviors / DISC + Motivators
Sales / Selling related
Emotional Quotient - Emotional Intelligence
Leadership Development Program


Technical Reports
TTI DISC / Behaviors Technical report
TTI Motivators Technical report
TTI DNA Competencies Technical report
TTI Combined Technical reports
Emotional Quotient Technical report


Return to TTI assessments & training tools main page.