TTI Assessments & Related Tools


Facilitation Materials/ Seminar / Courseware

– Professional Development Series ™– Behaviors version
– Facilitator Material, Participant Manual, Videos


Professional Development Series Kit – Behaviors version (PDS-BFK)

This seminar incorporates the DISC / Style Insights ® assessment and the Success Insights ® Wheel in 10 one-hour modules and 4 one-hour bonus lessons.

This facilitation material helps participants understand DISC and gain a true appreciation of themselves and others.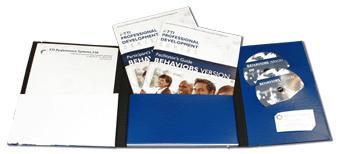 The participant learns how he / she:
– approaches problems & challenges
– deal with new people and information
– related to pace and change
– respond to procedures and constraints

It includes:
Lesson 1 - Introduction
Lesson 2 - D Defined
Lesson 3 - I Defined
Lesson 4 - S Defined
Lesson 5 - C Defined
Lesson 6 - Understanding Your Strengths
Lesson 7 - Communicating With Others
Lesson 8 - Natural vs. Adapted Styles
Lesson 9 - The TTI Success Insights Wheel Defined
Lesson 10 - Conclusion

Each lesson is divided into 5 sections:
– welcome
– DVD / video
– question discussion
– personal and group reflection exercises and goal setting

Each kit includes:
– DVD / video - 10 professionally narrated videos, each
video integrates seamlessly into each 1 hour lesson
– Resource CD
– Facilitator's Guide
– 10 Participant Manuals

View Professional Development Series brochure.



Contact us for more information and pricing.


Other Behaviors / DISC Facilitation & Training Tools

TTI Styles Revealed ™– DISC Behavioral Role Exercise Game (G-SR)
This role behavioral exercise card game is a great enhancement to any DISC session for a variety of group sizes - up to 88 participants. Since the roles are left untold, participant natural behavioral styles will be revealed as the discussion evolves toward finding the best resolution.
View more TTI Styles Revealed - DISC Game information


Dynamic Communication ™ Seminar
DISC Training Material –and– Participant Workbook
This is a behavioral based communication seminar teaches people how to interact with others and to appreciate others' behavioral styles.
View Dynamic Communication Seminar, with Participant Workbook information
View Dynamic Communication Seminar brochure


Why Learn About Behavior
Learning about a behavioral model will help a person to better understand themselves and others, enhancing personal and professional relationships.

An understanding of behavior will accomplish the following:
– Increased Understanding of Self
– Increased Understanding of Others
– Increased Communication
– Increased Productivity
– Decreased Tension

The DISC behavioral model is universally proven to provide applications for improvement in the following areas:
– Communication
– Sales
– Team Building
– Social Relationships
– Job Selection
– Customer Service


– Career Planning
– Conflict Resolution
– Time Management
– Goal Setting
– Telemarketing



Contact us for more information and pricing.


OTHER FACILITATION & TRAINING TOOLS
Facilitator materials, participant wookbooks, video, games

COMBINED DISC / Behaviors –AND– Motivators
Professional Development Series – Behaviors & Motivators version
2 Facilitator Kits with 20 participant manuals and 2 sets of DVD videos

Motivators / Attitudes / Values / PIAV
TTI Motivators Revealed Role Exercise Game
Your Attitude Is Showing™ Seminar - with participant workbook
Motivators - Professional Development Series – Facilitator Kit with 10 participant manuals and DVD videos

Sales / Selling Development Tools
Selling With Style Sales Role Exercise Kit
Sales Skills Index Developmental set

Emotional Quotient / Emotional Intelligence – EQ
Emotional Quotient - Professional Development Series – Facilitator Kit 10 participant manuals and DVD videos

Leadership Development Material
Leadership Development - Faciliator / Mentor and Protιgι

Please contact us for more information and pricing.


GROUP WHEELS – for Online Assessments
Behaviors / DISC Group Wheel information
Motivators / 12 Driving Forces Group Wheel & Bar information


Additional Information
DISC - Verbal Barriers
DISC - 10 mistakes
Sales - Top Performers Research


Technical Reports
TTI DISC / Behaviors Technical report
TTI Motivators Technical report
TTI DNA Competencies Technical report
TTI Combined Technical reports
Emotional Quotient Technical report


Return to TTI assessments & training tools main page.