Selection Reports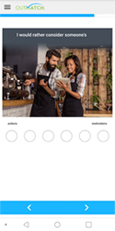 Using the simple, easy to navigate OutMatch dashboard, choose the Job Profile / assessment to use for each position.

Personality Module
— 20 - 30 minutes for Sales Professional roles *
— 20 - 30 minutes for Professional, Management, Executive roles *
— 12 -15 minutes for Hourly / Temporary / Seasonal roles *

* Optional: Cognitive Abilities Tests - included in report cost
— Approximately 15 - 25 minutes additional - per ability
— Optional choices: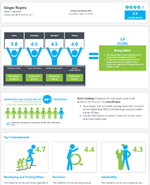 - Number Patterns
- Logical Reasoning
- Numerical Reasoning
- Reading Comprehension
- Abstract Reasoning
- Sales Knowledge
- Retail Profit & Loss Numerical Reasoning
- Restaurant Profit & Loss Numerical Reasoning
- Hotel Profit & Loss Numerical Reasoning
View more Optional Abilities Testing information


Selection reports offer:
— Assessment traits / competencies overview
— Detailed insights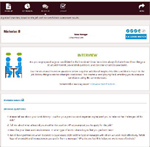 — Follow up interview questions
Specific questions focused on candidate's "weaknesses"
— Interview Questions - Drive effective, objective interviews
— Reports enable more informed and efficient decisions by
providing interview questions specific to candidate's
"weaknesses."

View Professionals, Sales, Management, Executive - Reports Guide

Sample Reports
— Sales Professional Selection report
— Sales Professional Compare report
— Sales Professional Development / Onboarding report
— Sales Professional Succeed report

Additional System Functions - included in the price per report

Each completed candidate report includes ALL of the following:
— COMPARE report - Short list top candidates
— DEVELOPMENT / On-boarding report - to develop new hires
— SUCCEED report - See candidate's fit for up to 4 other roles at one time (same level)

Hiring Manager Experience
— System includes ALL roles:
Hourly / frontline, Sales, Professionals, Management, Executive
— Simple, easy to navigate dashboard
— Choose the Job Profile / assessment to use for each position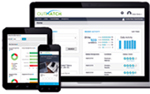 — Easy to understand assessment reports
— Hiring decisions are made simpler
— HRIS / ATS Integration option

Languages
The product talent dashboard (software interface) is only available in English.
The online survey and reports are available in various languages.

Strong Science
— Backed by 30 years of I/O - behavioral science research
— Rigorous criterion-related validation approach
— Ongoing data collection and optimization



SALES Professionals — Full Listing of Job Roles / Assessments:

View ALL SALES Job roles and descriptions


View ALL LEVELS - Full Listing with descriptions - Hourly, Sales, Management, Professionals, Executives

View OutMatch Assessment Platform brochure


OutMatch for Sales Professionals
Report options
Abilities Testing - Optional
Development report
Compare report
Succeed report
Features & Benefits
Analytic reports
Language options
OutMatch ATS Integration & Partners
OutMatch Purchase Options
Representative Clients


Contact us for more OutMatch information, pricing, sample reports.

OutMatch - Hourly, Frontline, Temporary, Seasonal hiring assessments
OutMatch - Managers, Professionals, Executives


<! ----------------------------------------------------------------------CHANGE ABOVE---------------------------------------------------------------> View Hourly, Temporary, Seasonal - Reports Guide
View Professionals, Sales, Management, Executive - Reports Guide


Return to OutMatch Assessment Platform main page.