Features & Benefits
OutMatch Dashboard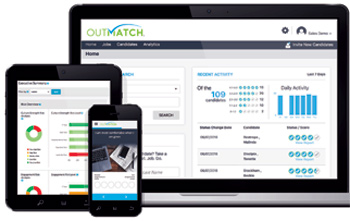 General navigation tabs include:

Home - see large screen to right
— Contains a quick Candidate Search feature
— Rapid Invite to send assessment invitations
— Snapshot of Recent Activity

Jobs
— List of all active jobs in your account
— Add a new job
— View job details
— View Job-specific candidate activity
— Invite new candidates to take the assessment

Candidates
— Furnishes candidate data, with search and filter options
— Sort and stack rank the best matched candidates
— View candidate assessment status
— Send reminders
— View reports

Analytics dashboards - see tablet / medium screen above
— Provides usage and assessment overviews
— Check real-time assessment efficiency, candidate insights, results


OutMatch Assessment Settings
Several customizable options were included in the OutMatch Settings.
— Candidate experience customizations
— User and permissions management
— Advanced settings for account and assessments


OutMatch User Types
There are two permissions levels and user types:

Hiring Representative:
— Candidate experience customizations
— User and permissions management
— Advanced settings for account and assessments

Hiring Administrators:
— Same abilities as Hiring Representatives, plus:
— Add new assessments
— Manage users
— Customize candidate experience and account-level configurations
— Typical Roles: human resources, recruiting, or operational leadership


Job Profiles
— Select and configure one of the nearly 800+ job titles in the
OutMatch Job Library.
— Job names and descriptions can be customized to align to company's
specific roles.
— Within the Talent Dashboard, invite individuals to take an assessment
for a specific Job.
— In OutMatch Job Library, filter by job level, industry, and job function,
as well as search by job title.
— Determine which optional abilities measures will be included with
the Behavioral -or- Competency Match measure.


3 Ways to Invite Candidates to Take a Job Assessment
1. Rapid Invite
– Enter candidate's First Name, Last Name, Email Address, and, Choose the Job.
– Email invitation is sent.
2. Direct Invitations
– If you are inviting more than one individual at a time, or, want to customize the
assessment invitation email.
3. Self Registration Link
– This is a static link associated with a specific Job.
– It can be sent to any number of people at any time.
– This option allows individuals to register themselves for the assessment.
– This is a great tool to invite multiple people via mass communication, through
a job advertisement, or through a standard recruiting or applicant workflow.

Incorporate Company Branding into OutMatch's Platform
— Desktop Logo – 260 x 80 pixels
— Mobile Logo – 230 x 40 pixels

Customize
— Invitation emails
— Reminder emails
— Assessment Welcome Pages
— Thank You pages

Additional Customization
Embed videos, add images, and completely customize content in the assessment experience pages.

If you are linking individuals to the assessment from a Careers page or job advertisement, this space can be used to inform candidates about the application process, or even add a Transfer URL to lead them back to your website for more information.



SALES Professionals — Full Listing of Job Roles / Assessments:

View ALL SALES Job roles and descriptions


View ALL LEVELS - Full Listing with descriptions - Hourly, Sales, Management, Professionals, Executives

View OutMatch Assessment Platform brochure


OutMatch for Sales Professionals
Report options
Selection assessment
Abilities Testing - Optional
Development report
Compare report
Succeed report
Analytic reports
Language options
OutMatch ATS Integration & Partners
OutMatch Purchase Options
Representative Clients


Contact us for more OutMatch information, pricing, sample reports.

OutMatch - Hourly, Frontline, Temporary, Seasonal hiring assessments
OutMatch - Managers, Professionals, Executives


<! ----------------------------------------------------------------------CHANGE ABOVE---------------------------------------------------------------> View Hourly, Temporary, Seasonal - Reports Guide
View Professionals, Sales, Management, Executive - Reports Guide


Return to OutMatch Assessment Platform main page.