MRA / 360 Degree Feedback System — Dual Scale Surveys
| | | | |
| --- | --- | --- | --- |
| | | | Report Options |



Choose from more than 20 reporting formats
— One page summaries
— Multi-page detailed item analysis reports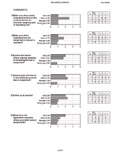 Seven Types of Reports
— Overall Results
— Competency Summary
— Analysis by Behavior
— Analysis by Importance Rating
— Strengths by Raters
— Needs by Rater Group
— Comparative Report


Perceptions 360 - Report Qualities
Perceptions 360 Feedback Report focuses on behaviors.
Feedback is provided for each behavior on the survey, not just the Skill Areas.

Example:
Skill Area:
Listening

Behaviors:
"Allow people to finish what they have to say."
"Display a genuine interest as you speak."

Survey Customization by User
Design custom tailored questionnaires / surveys and reports.

Types of Projects
Request any kind of multi-source input or feedback. Use scales, open-ended questions, or a combination of both.

Select, Deselect, Revise or Add Any Behavior or Skill Category
This survey / assessment system can even use your organization's internally-researched skill sets.
Changes to any skill set can be made at any time.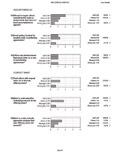 Measurement Scales
With Perceptions 360 you can design and use new scales, and you can designate a second rating to be compared with the performance rating, such as importance, desired performance or past performance.

Relationship Types
Choose from standard perspectives such as peer, team manager, manager, customer -or- create as many customized relationship types as needed.

Assignment of Relationship Type
You may want to select only certain respondents (e.g., manager) to respond to a particular scale or a set of items.

Number of Respondents
There is NO limit to the number of respondents that can be assign to a particular subject.

Instructions
Customize your instructions for respondent email messages and report covers.

Comments
You can ask respondents to enter comments for every survey question / behavior. Select up to 3 comment prompts.
Add any number of end-of-survey questions for respondents to comment in any length.

Weights
Some individual questions / behaviors may be viewed as more important by your organization.
If so, you can give more weight to particular items. Otherwise, each item will be given the same weight.

Developmental Recommendations
This survey categories in the series of Team Leadership and Personal Leadership contain detailed recommendations or add locally available resources.

Report Formats
The Perceptions 360 system offers numerous report templates for individual, group and organization reports.

In addition, you can design and save any number of original report formats to meet specific needs.
Reports may be generated at any time.

The following special report capabilities are available:
— Anonymous comments displayed with specific behaviors
— Developmental recommendations for all standard items
— Current – Previous performance comparisons
— Consolidated group or organization needs assessment reports


View Perceptions 360 brochure

Perceptions 360 report samples:
Individual report sample
Leadership report sample
Composite report sample

More Perceptions 360 Information:
About Dual Scale Surveys / Assessments
Features & Benefits
Applications and Uses
Survey Design
Survey Library - Available Categories
Perceptions 360 - the Process
Understanding Gap Size


Please contact us for more Perception's 360 information and pricing.

Return to Perception's 360 Dual Scal Surveys main page.





Friday, June 2, 2023